This page was exported from SoftNet Sistem [ http://softnetsistem.rs ]
Export date: Sun Jul 3 15:07:51 2022 / +0000 GMT
Kliknuti na Control Panel > Network Connections > File > New Connection...
Otvoriće vam se sledeći prozor:
3.Kliknite na Next
4.Izaberite opciju "Connect to the Internet" i kliknite na Next
5.Izaberite opciju "Set up my connection manually" i kliknite na Next
6.Izaberite opciju "Connect using a broadband connection that requires a user name and password"
i kliknite na Next
7.Kao "ISP Name" unesite "softnet" i kliknite na Next
8.U polje "User name" unesite svoje korisničko ime
9.U polja "Password" i "Confirm password" unesite svoju korisničku šifru
10.Kliknite na Next
<![if !vml]>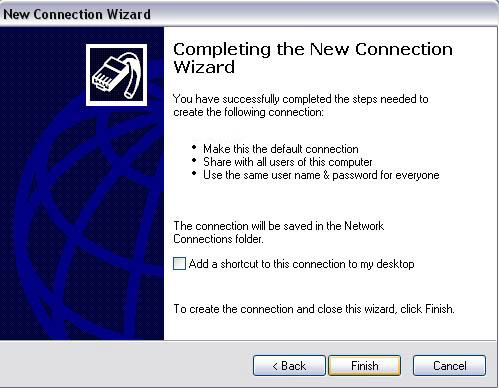 <![endif]>
11.Ukoliko želite, "čekirajte" opciju "Add a shortcut to this connection to my desktop" i kliknite na "Finish"
12.Kreiranje PPPoE konekcije je završeno!
Podržano od [ Universal Post Manager ] plugin. MS Word sačuvan format razivijen od gTeam www.softnetsistem.rs